September 23, 2020
Realm Reconstruction Crew!
The day has arrived. The biggest MotMG to date begins today! Put on your hard hats and reflective vests and get in the spirit of Reconstruction - take part in the continuous rebuilding of our beloved game into something ever better! There is always plenty for us to do at the (Re)construction site, and you're about to dig into the heftiest patch notes to date. Fitting them all into this post would be unwieldy, so there is a link further down to all the minutiae of what has been going on behind the scenes. And there will be plenty for you to do, too, if you take a look at the MotMG Reconstruction Event Calendar!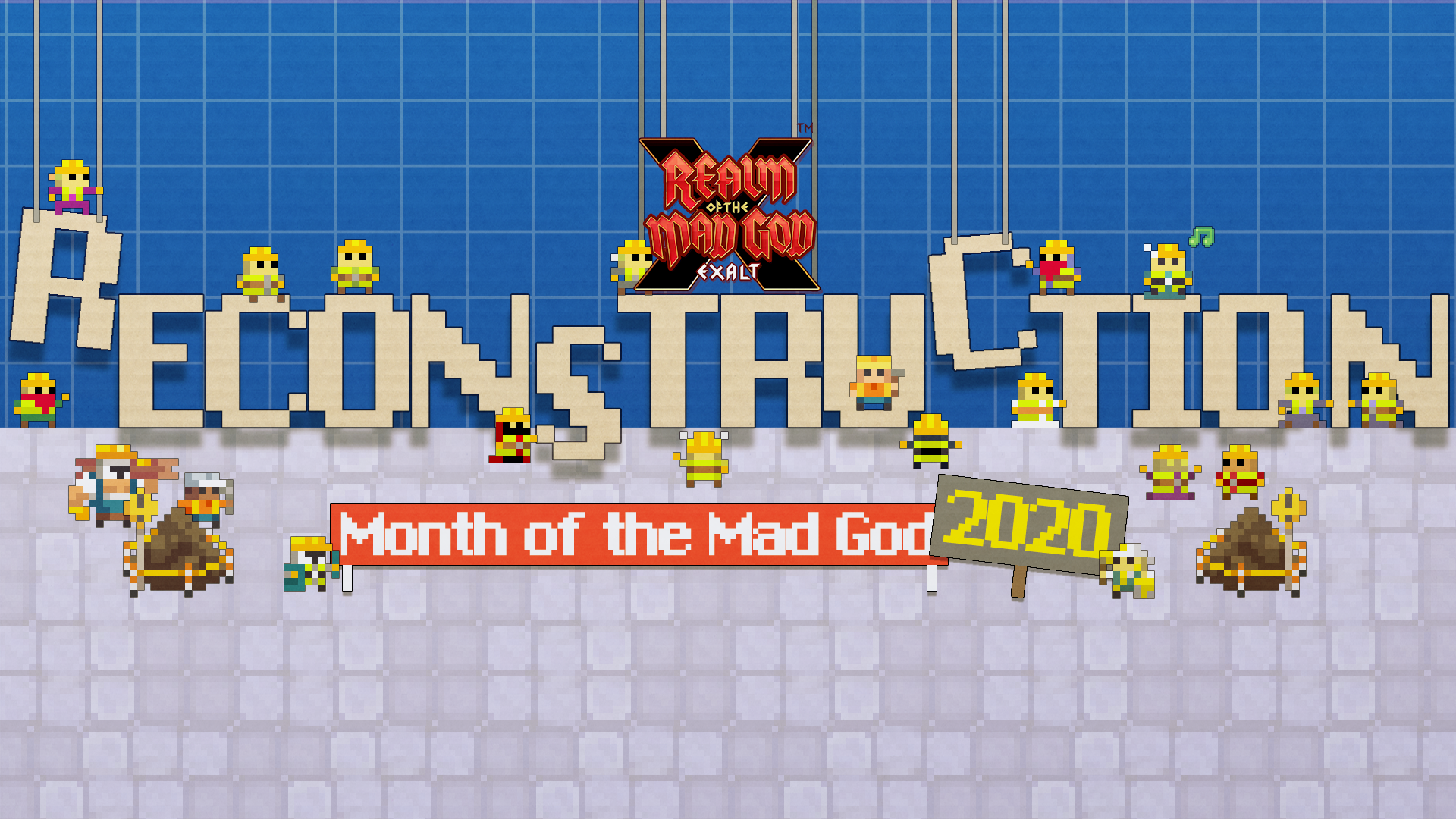 Update 09/30:
Fixed some issues that caused disconnections(e.g. when players are fighting Beisa in Oryx's Sanctuary).

Fixed issue with decimal points displaying in the Pentaract Tower Boss' HP Bar.

Death in a dungeon will no longer occasionally reduce the Dungeon completed count in the Exaltation panel.

Exaltation points on a non-maxed stat will no longer display the stat as maxed when reaching the threshold.

The boss' quest marker in the Cultist Hideout now shows correctly.

"Cancel" and "Submit" buttons now appear correctly in the "Change Your Password" menu.
Update 09/25:
Fixed issue with accessing the boss room in Undead Lair.

Visual issue fixed: Exaltation progress bar can no longer be moved via left click.

Invoice page after gold purchase with Xsolla now displays correctly.

Negative stats effect from equipment now reflects when gear is equipped.

Description of the Mystery ST Crate updated with the latest ST set.
Farewell, Flash Client
Realm of the Mad God: Exalt stands on the shoulders of the giant that was Flash. Many of us (and you, we think) have fond memories not only of our own little big Flash game, but of the creativity and fun that this unique development ecosystem made possible. With Flash going away for good later this year, the time has come for Realm Exalt to hop out of the nest and soar. Starting today, Flash will no longer be an option on Steam, the website will not host the Flash client, and Realm will no longer be on Kongregate. Farewell, old friend! Big F...
Month of the Mad God: Reconstruction
For the most meticulous of the crew, here is a very exhaustive list of changes. For those eager for a review, read on!
The New Systems
Vital Combat
Vital Combat is a brand new gameplay system that affects Health and Mana regeneration via Pet abilities and the Vitality and Wisdom stats. Vital Combat is meant to address the long-term health of the metagame by looking at just how players are challenged by the content.
When you are hit by a certain amount of damage, you will enter the In Combat state. This puts your WIS and VIT regeneration at half speed*, and adds a 2 second delay to your Pet's abilities. The condition lasts for a base duration of 7 seconds but it is affected by your Vitality. For every 5 VIT the duration is reduced by 0.2 seconds with a minimum duration of 1 second.

*The regeneration speed of VIT and WIS has been doubled, which means that while In Combat you will passively regenerate as before, and while Out of Combat you will regenerate much faster!

The amount of damage to enter the In Combat state is scaled based on your Defense. You can see this Combat Trigger value by hovering over the new Vital Combat tooltip above your Fame bar.
Exaltations
Exaltation is the new endgame progression system, which will reward you with permanent upgrades for the stats of your Exalted classes. It will revolve around the endgame dungeons:
| Dungeon | Stat |
| --- | --- |
| The Nest | Dexterity |
| The Shatters | Attack |
| Fungal Cavern | Wisdom |
| Crystal Cavern | Vitality |
| Lost Halls | Defense |
| Cultist Hideout | Speed |
| The Void | Mana |
| Oryx's Sanctuary | Life |
Whenever your 8/8 character finishes one of these dungeons by killing the boss, the completion is counted in the Exaltation system towards the corresponding stat for the class you are using. If you reach a certain amount of completions in each stat, you get stat bonuses. You can reach up to 5 stat bonuses in each stat. Every stat bonus gives you an increase of +1 to the stat (+5 to HP/MP), and they are permanent for that class. Forever. The Exaltation rewards certainly do not end with stat bonuses!
The Fast Learner Exaltations will give you a permanent bonus to XP gain on a certain class every time you achieve a certain amount of any stat bonuses on that class.

The Mastery Exaltations will give you a weapon attack damage bonus when you achieve a certain amount of each stat bonus of a class.

The Armor Proficiency Exaltations will decrease the time spent In Combat when you achieve bonuses in all stats on classes that wear the same armor type.

The Weapon Proficiency Exaltations will reward you with higher drop rates on all items when you achieve bonuses in all stats on classes that use the same weapon type.
Not only will your Exalted classes be powerful, they'll look it too! If you achieve the impressive feat of maxing out all stats on a class, you will receive the Exalted Skin for that class and decorate your Vault with new Golden Statues.
And while you are busy grinding out stat bonuses for any and all classes, you will be receiving these exclusive Pet Skins... until you max out all of them, and receive a permanent 10% drop rate on all classes!
The Appetizer
This gourmand has a twisted relationship with food, hoarding it for himself yet utilizing it as a humiliating weapon. You will meet this new event boss next week and have the chance to punch him until he turns into little piles of food himself!
The Appetizer will spawn in the Mountains after all Red Demons are defeated. Along with him, three Food Piles spawn across the map. The Appetizer teleports to the food piles one by one and his properties change based on the Food Pile that he is next to.
The Food Piles will have a chance to drop their respective type of Food or a Mystery Stat Pot. They will also drop a guaranteed Food Voucher x1 token which stacks up to 40. You can double click the stack to turn it into a Food item - you can see the possible options in the full changelog document. The Appetizer will also drop a guaranteed Food Voucher x1. He can also drop any of the five Food Pile foods, Mystery Stat Pots, and a hefty Rogue Skin.
The Reconstructed
Realm is a decade old game that is still growing and moving forward, and we do not want older content to be left behind and feel obsolete. There must be a place and purpose for all, and shiny new sprites to boot!
The Pirate Cave, Spider Den, Snake Pit, Undead Lair, and Abyss of Demons have received dramatic overhauls in all aspects, with some much lighter changes to the Forest Maze as well. Even the Keyper has seen improvements and balance tweaks! We've got plenty of details in the full changelog linked earlier, so we recommend checking it out!
Stay up to date on which events are going to be active during MotMG in this thread. The thread will be updated each week.
UT and ST Increased Drop Rates
As we mentioned last Friday, the old Archer and Rogue ST sets are now dropping with an increased drop rate!
The majority of the UTs and STs across the board are now also dropping with an increased drop rate as well! A complete list of individual items with buffed rates has been included in the full changelog document.
Other Fixes and Improvements
Randomly offset ground tile sprites now work on Exalt, allowing for more natural looking textures like grass with less obvious tiling.

Added Vital Combat and Exaltation pages to the in-game Journal.

Fixed "Player on Top" option to not show other players' projectiles and status effects on your character.

Fixed DC issues:

when trading with a player who has special characters in the name.

when wearing the following set: Divinity + Seal of the Battle God + Mercy's Bane + Ring of Unbound Attack.

when using Cursed Spire Spell and changing the area right before it explodes.

Fixed display issue of the Immune status on enemies.

Fixed issue with a character's death not showing in the graveyard.

Fixed various tooltips typos.
Misc
Soon, you will find out who won in the Make a Wish raffle here. Rewards to be sent soon!

Since MotMG is all about change, we are now selling some items for fame in the Nexus Shop. Check it out in-game!

We have partnered with new content creators:

The Dungeon Art Contest is over! We are currently reviewing all entries and will update you soon on the winners!
Discord Reconstruction Event
Head over to the official Discord for a special event that ties in to the F2P campaign! By making progress in the campaign, you'll be able to help reconstruct dungeons with the help of other players on discord. Earn tokens that can be redeemed for raffle tickets with a prize pool of 48,000 Realm Gold! For more information, check the #event-info on the server.
Last but not least, getting all of the MotMG content and features to you took a lot of time and effort not only on our part, but on our amazing Testers and UGC members who created the stunning decorations you can all see in the Vault, Nexus and GHall; the creative construction versions of the encounters you're about to see; and the fun and colorful character and pet skins! So, once again, we want to express our gratitude for your support and dedication! We know it might be hard sometimes but your patience and expertise is one of the main factors that drives Realm of the Mad God forward!