December 16, 2020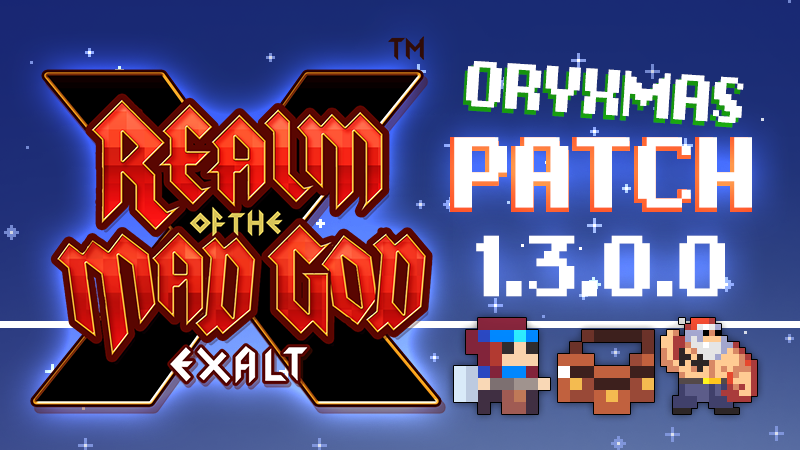 Merry Oryxmas, Realmers!
The Oryxmas season is here in full force! In our largest update since MotMG, we've got a Santa's bag worth of new content to share. The expansive and long-awaited Item Forge, enhanced consumable usage with Quick Slots, three completely remade dungeons, a brand new Cube God dungeon, new godlands foes, a festive campaign for the holiday season, and more still! Let's dive in.
There are a lot of unknowns about The Blacksmith's age, precedence or her involvement with the events of the past, but what's important is that, in her own words, "Ain't no one better with the hammah than me!"
Item Forge
This is the one of the most game-changing features this year. It completely changes the way realmers look at and gather items. Although we have already covered the vast majority of features the Item Forge and the new Oryxmas Campaign will bring, we want you to know exactly what we are building.
Item Forge is the new system that will allow you to "dismantle" your items and trade them for other, more useful ones. Although this is the main purpose of Item Forge, you will soon find its applications can extend far beyond!
The Blacksmith
The Blacksmith is the new character that will open the Item Forge. She will be located in the Vault (yes, not Nexus, nor Daily Quest Room).
This mysterious, tough-looking girl seems to have been an old pal of Davy Jones back in the "good ol'times". She decided to get out of her self-imposed retirement and back to her legendary-artifact-forging business when Oryx's Sanctuary was opened, for reasons only she knows.
The Interface
Item Forge's interface is divided into two main parts: the Craft panel and the Dismantle panel.
In the Dismantle panel, you can select as many items as you want to dismantle. It's important that you take your time when picking which items you want to dismantle as you will lose those items forever after confirming the crafting operation. To make things easy, all selectable items from your inventory and vault are shown here, you don't need to carry them.
The other part of the screen is the Craft panel. Here, you pick which item you want to craft. Initially, you will have a fair amount of items (about 30) of all levels of power to choose, but this list can be expanded even more if you find Blueprints by playing in the Realm or Dungeons, allowing you to craft even more items.
So, to craft an item, you select any number of items you want to dismantle, and the item you want to craft with them. However, there is a catch: the item you want to craft has requirements you have to meet by selecting adequate dismantled items.
Crafting items
Not all items are equally easy to craft. The higher its power, the more strict are its requirements.
The most important requirement to craft an item is the materials it requires.
All dismantle-able items have a certain value in "materials". There are three types of materials: Common, Rare and Legendary. The rarer the item, the rarer the materials they provide (and in higher quantity).
In the tooltip description of the item, you will see the quantity and rarity of the materials provided by an item.
It's important to note that materials are not stored anywhere. When you select items to dismantle, it's the sum of values for each rarity what counts.
For example, if you want to craft a Candy Ring (requires 40 Common materials) we decide to dismantle our Cloak of the Planewalker (20 Common) and our Ring of Divine Faith (20 Common).
Be reminded that the values that an item provides when dismantling are different to what it requires to be crafted.
Occasionally, you can also find ores. They are items that are specifically intended for crafting, and they can replace a good amount of certain materials and rarities, so you don't have to sacrifice your own items. However, ores are not that easy to find and only one can be used per crafting.
Lastly, certain items are particularly picky. They might or might not be expensive in material requirements, but they might require certain items to be dismantled. Marks will sometimes be required to craft these particular items, and they are usually related to the origins of the item itself.
Forgefire
Every forge needs a fire. This is not an exception, as the Item Forge uses a magical source of combustible goodness to craft all kinds of awesome artifacts.
However, the fires need to rest after intensive use. That's why each item you craft will consume a certain amount of Forgefire points from the forge.
You can always see how many Forgefire points you have in the top right corner of the Item Forge window.
Also, each item in the Craft panel will display the amount of Forgefire points consumed if you craft it.
If the amount of Forgefire points is too low, you won't be able to craft the item.
However, you just need to give it a rest! Every day you will recharge 400 Forgefire points when you login into the game. They can be also accumulated up to a maximum of 1600 Forgefire points.
If you cannot wait, though, a new type of consumables called Sulphurs can also be obtained which will add extra Forgefire points immediately.
Blueprints
Blueprints are consumable items that can be used to learn new recipes on the Item Forge. Once used, you will expand your collection of craftable items!
Blueprints come in different rarities: the rarer the blueprint, the rarer the items it will teach you. Most Blueprints can be dropped by enemies in the realm and dungeons, but some of them can be acquired through other means like seasonal Campaigns.
As an additional bonus, if you get a Blueprint with recipes which you already have learned, there's a second use for them: if you dismantle Blueprints in the Item Forge, they will reduce the Forgefire cost of the craft.
You'll be able to find them in the Mystery Shop or in the Nexus, next to the X.
Changes to Item Forge since the Public Testing
New values for materials of items
Expanded the list of items that can be dismantled and crafted
Tweaked the values for some items
The number of Marks required for items has been reviewed
Changed the UI for dismantled items, now they show their values without having to hover over them
Added a Search bar.
Quick Slots
Quick Slots are a feature that allow you to use a wide range of consumable items in the slots that were previously only reserved for Health and Magic Potions.Now your battle options become wider! You can also increase the number of Quick Slots available by using the Adventurer's Belt. Similar to the Backpack, when consuming it with a character, the new slot will be added.
Here's what changed after Public Testing:
Removed cooldown on items that currently exist in the game (bear in mind new consumable items in the future may use this feature).
In the same direction, items that currently exist are now usable from both inventory and Quick Slots.
Tweaked the maximum stackable units of certain items.
Fixed bugs reported by players during the Public Testing.
Oryxmas is here
Ho-ho-ho! Let's celebrate the Oryxmas season with a wonderful campaign! Collect Blue, Red and Yellow Scarves by completing dungeons and defeating encounters to unlock whimsical prizes from the Oryxmas Campaign on your merry way to the Realm. The Campaign will help you get your hands on seasonal equipment, festive cosmetics, blueprints and more!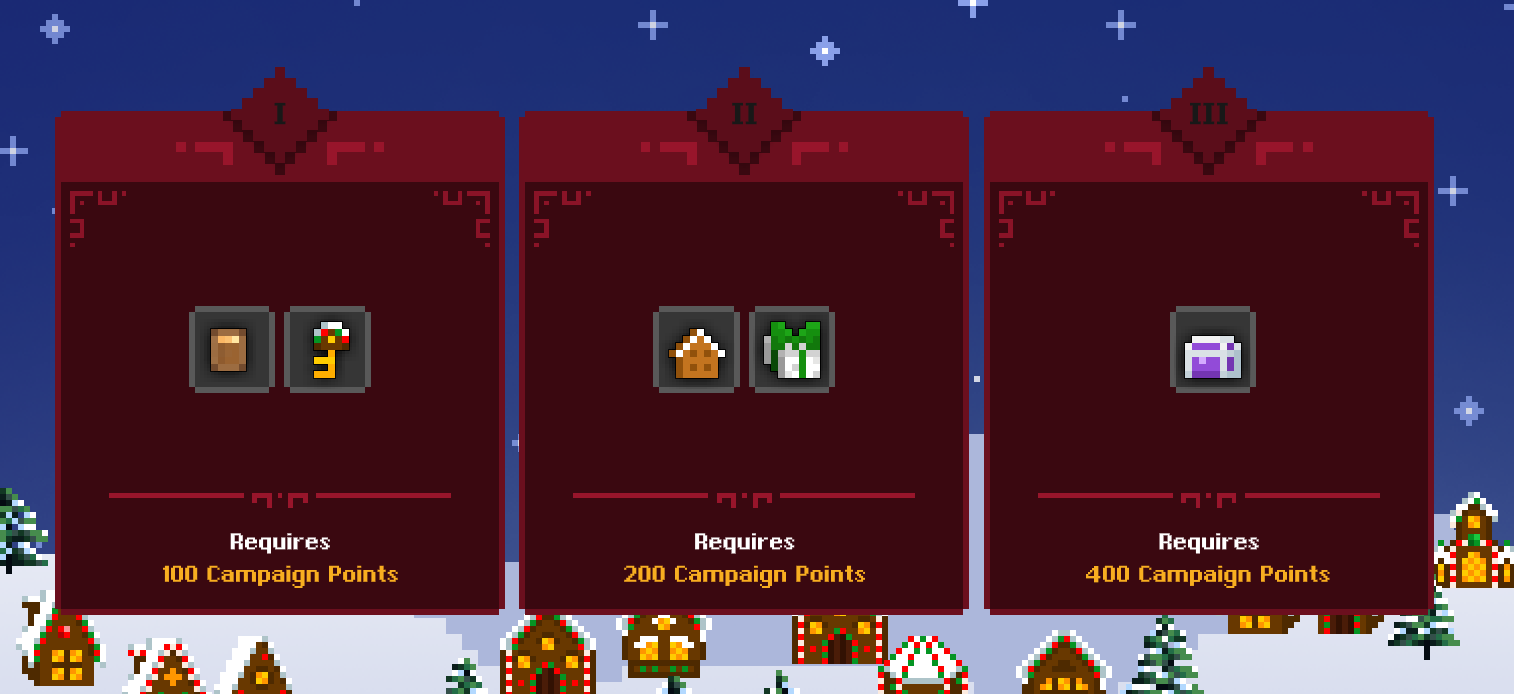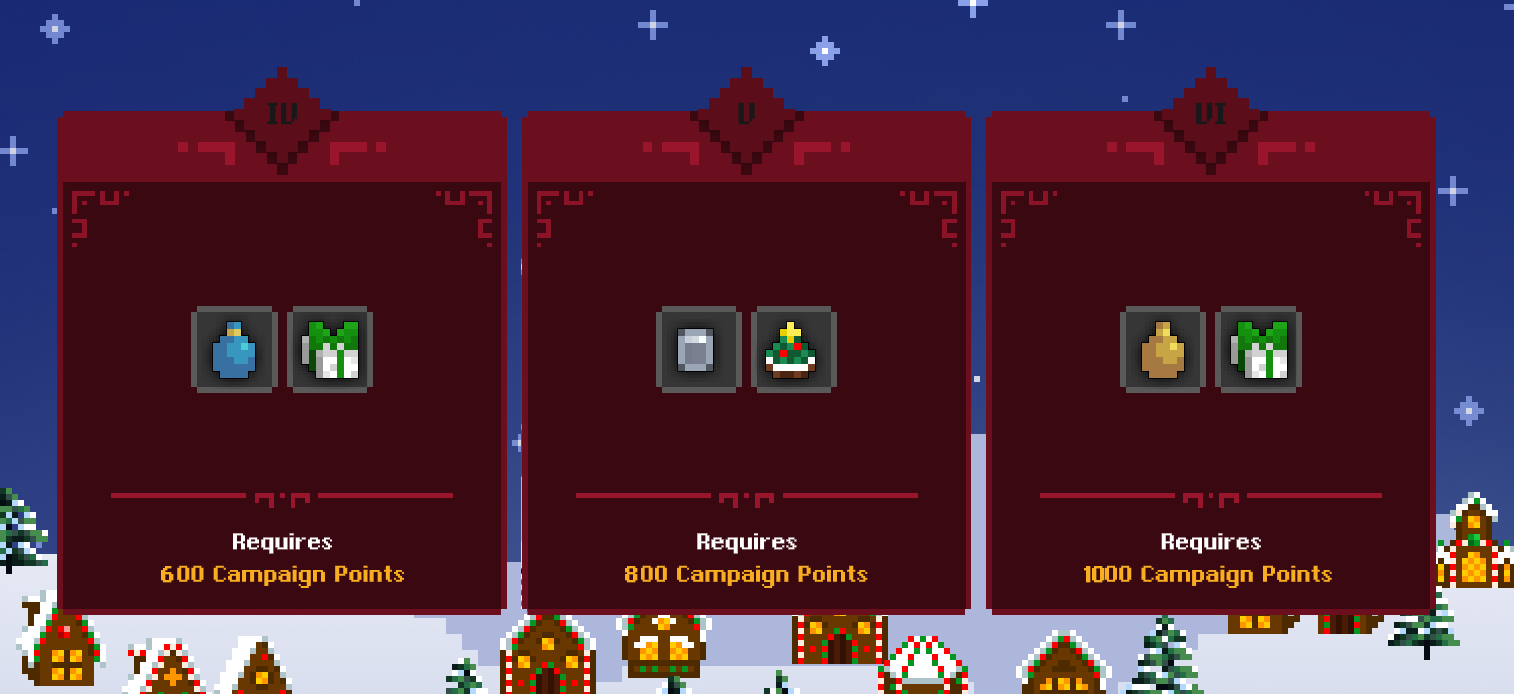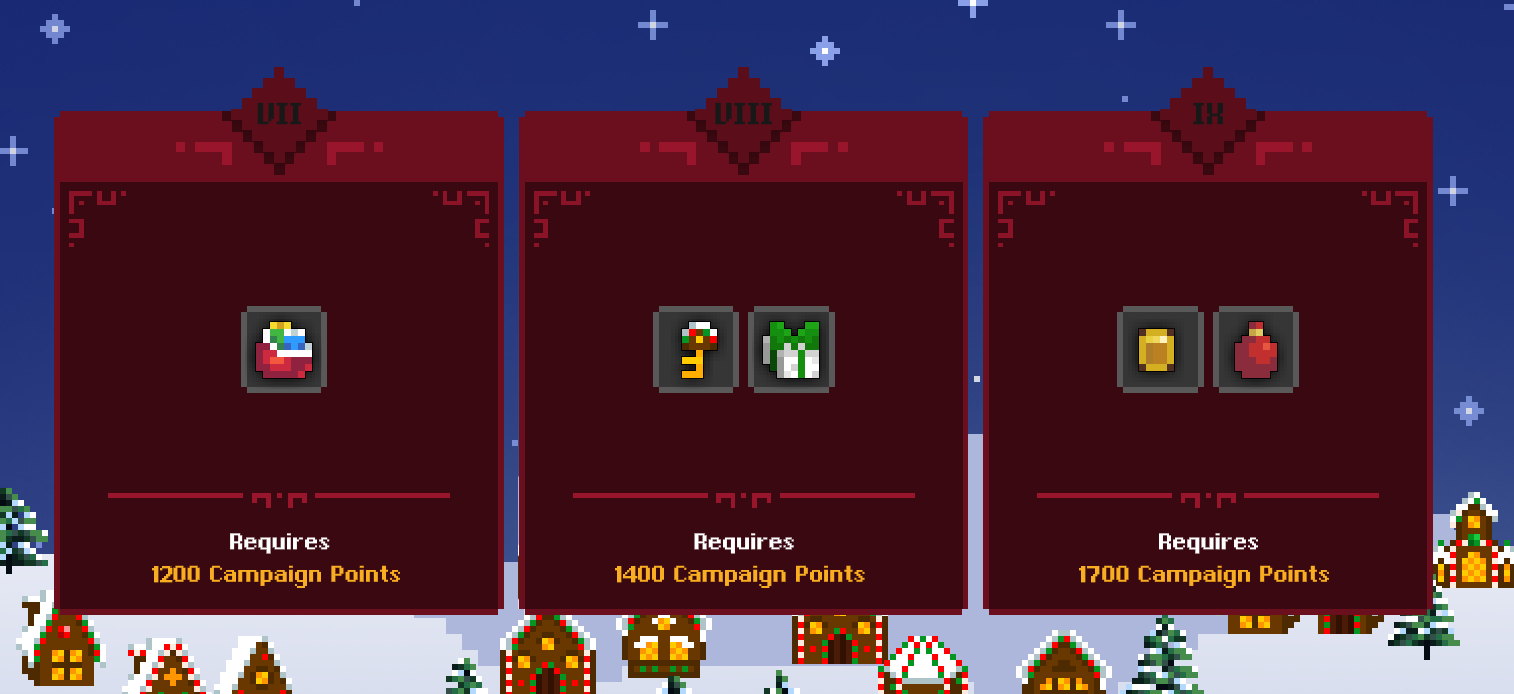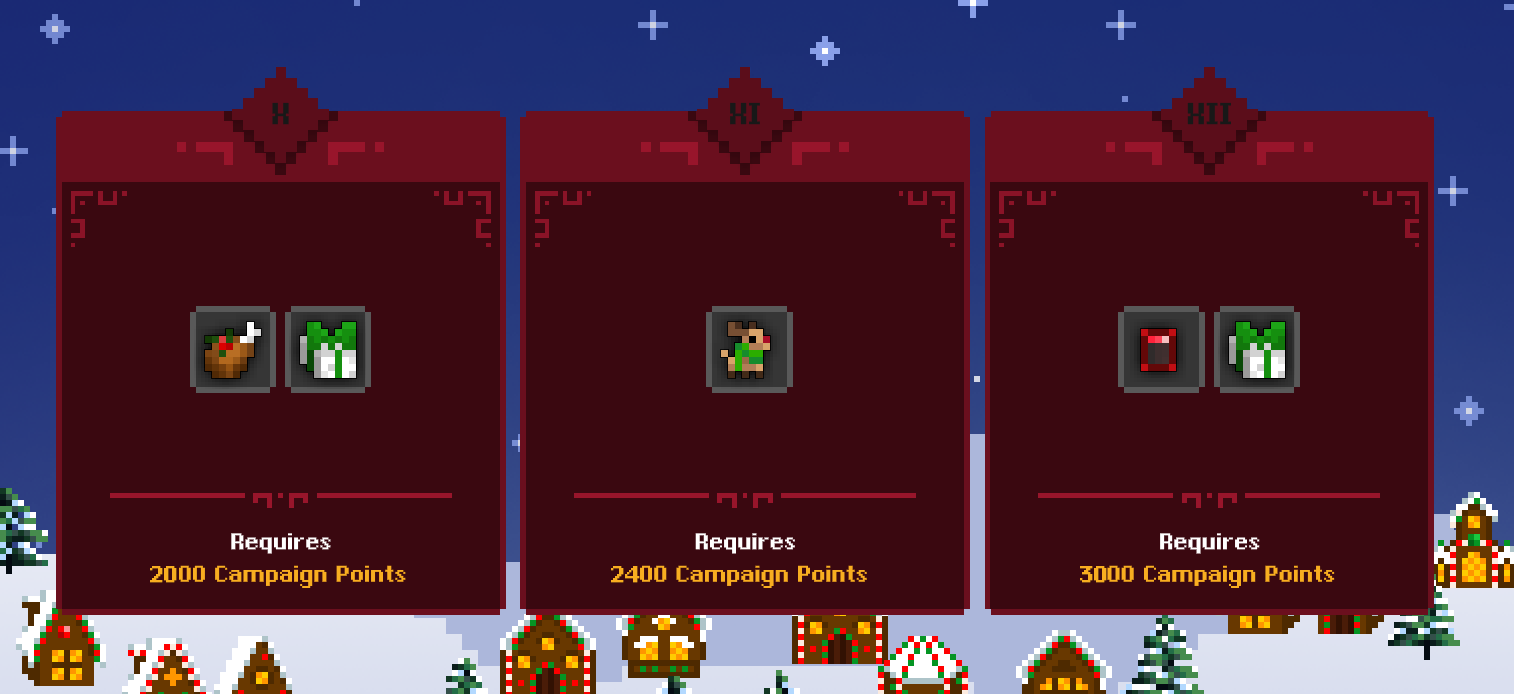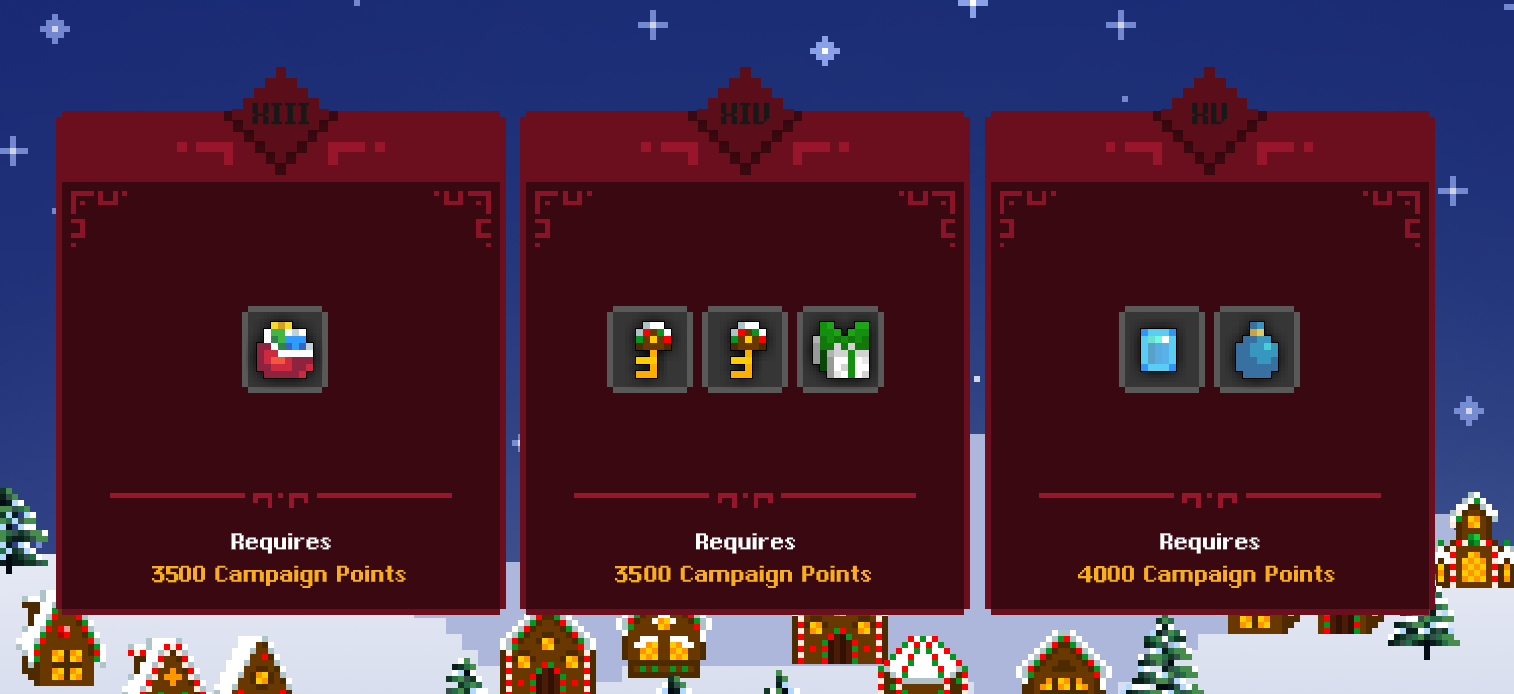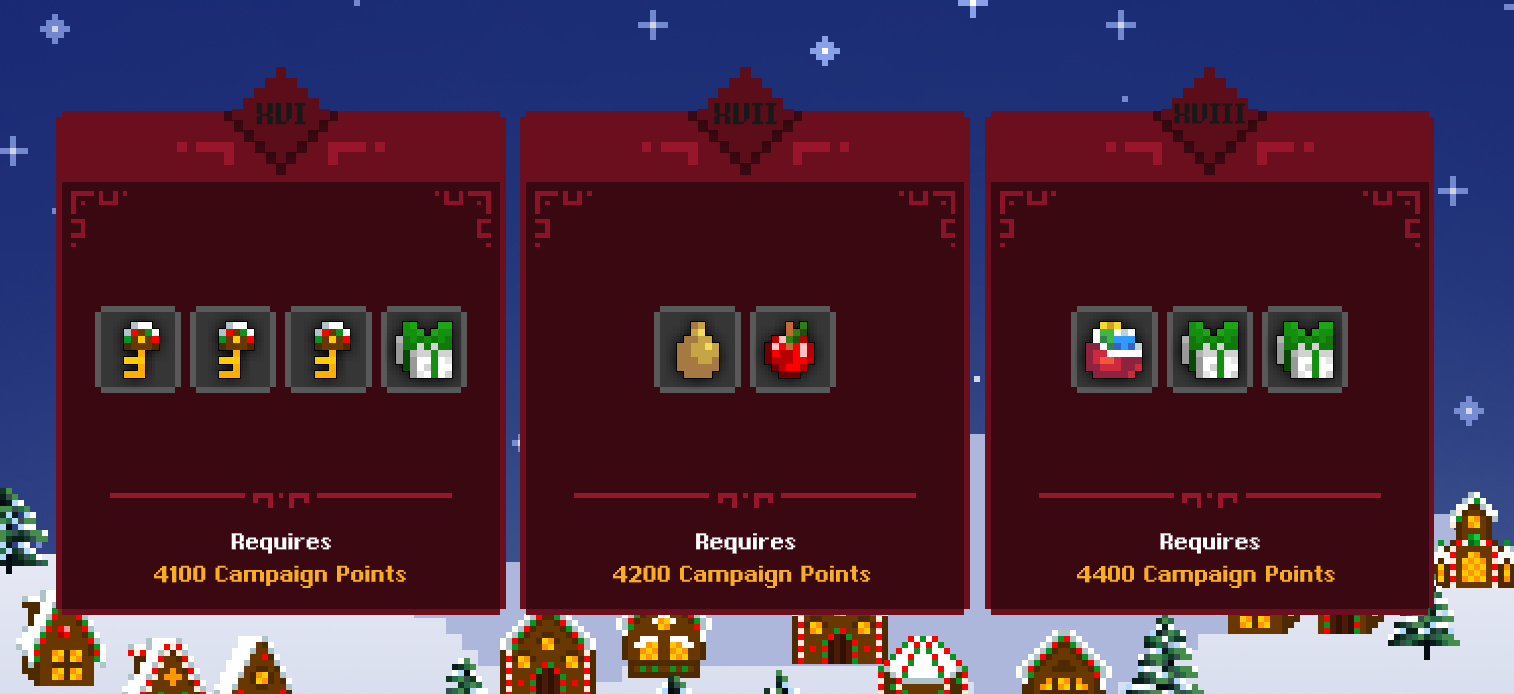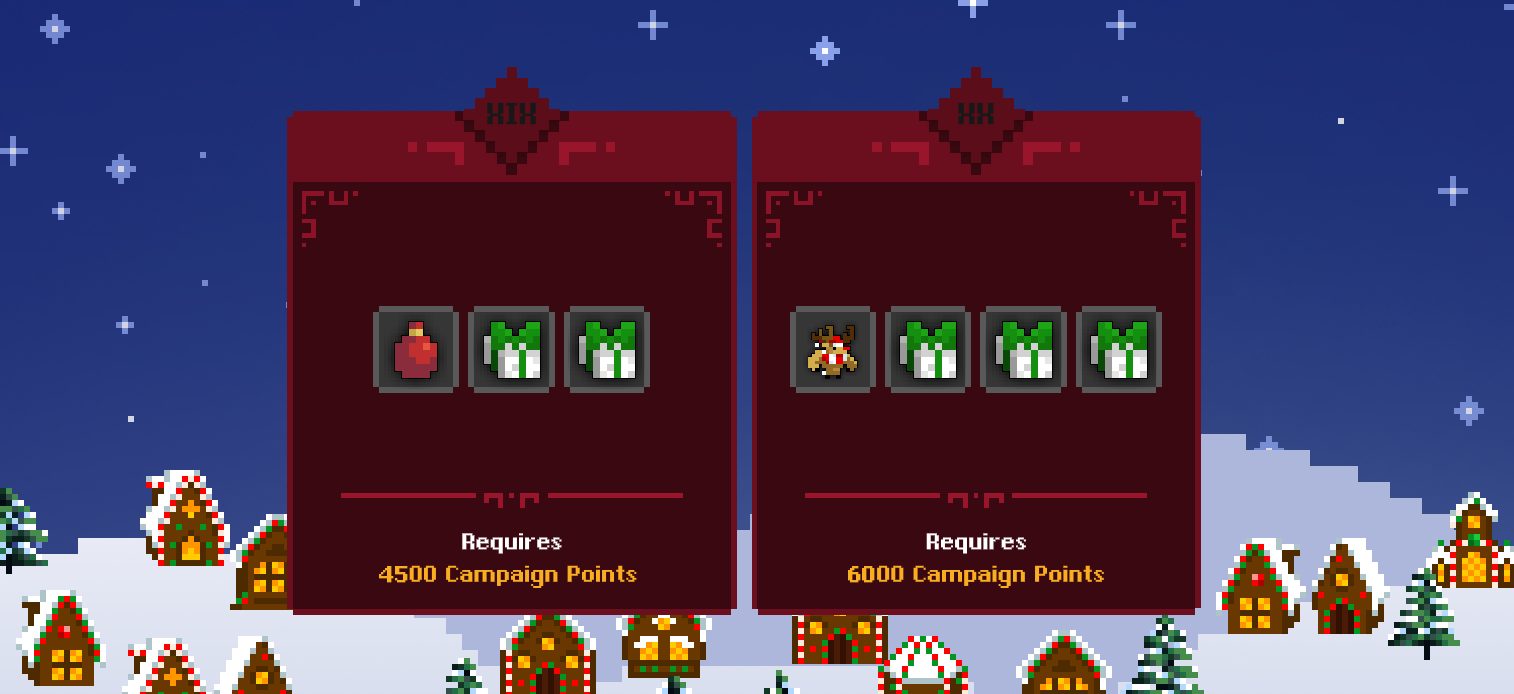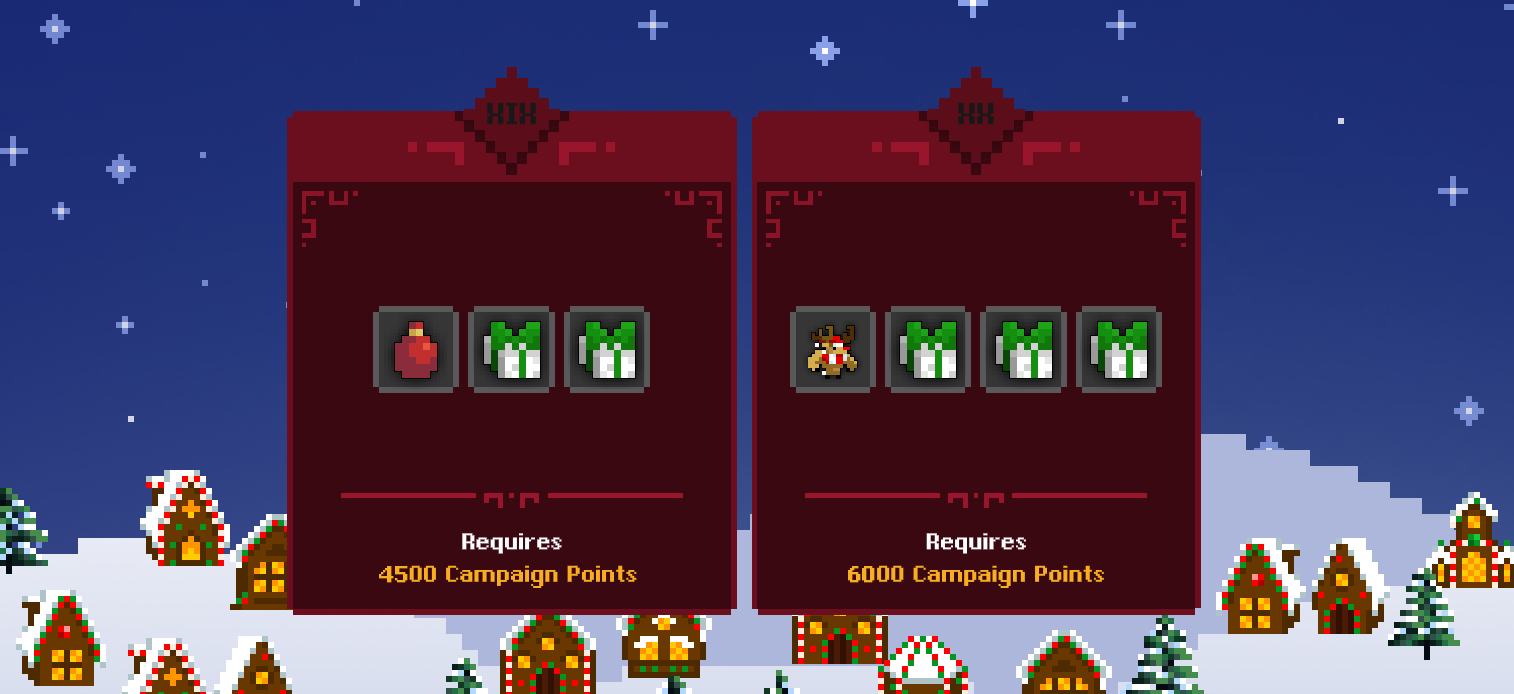 The Campaign will be available from release time on 12/16/20 until 01/12/21, 12:00 PM UTC.
Oryxmas Token drops
Just like in the MotMG Reconstruction Campaign, we're providing you with a handy chart of the Campaign Token drop locations and quantities:
Oryxmas Quests
As always, multiple quests will run alongside the campaign to help you fully stuff your Oryxmas stockings. These quests will be available for the duration of the campaign: from release time on 12/16/20 until 01/12/20, 12:00 PM UTC.
Surprises in the Realm
While roaming in the godlands, you will spot some surprises that you can shoot for a chance at some cool loot! 10 presents will spawn per realm in the mountains some time after the realm's generation.
Jack Frost
He is a special Oryxmas encounter which players can build themselves. In the Godlands you will encounter Snow Gods, trusty minions of Jack Frost. Snow Gods will have a chance to drop the body parts of Jack. Collect them and build your own boss! Once defeated, he will disassemble back to his primitive parts – hat, eyes and carrot nose. Destroy those and you will have a chance to get the New Oryxmas weapons and some Oryxmas campaign tokens, the latter of which is guaranteed.
How to spawn Jack Frost
Collect Coal, Carrot, Top Hat and Snow Body by defeating Jack Frost
Consuming the Snow Body will generate Jack Frost's body somewhere in the Mountain region
Find the light blue dot on map to locate Jack Frost's body
Consume the Coal, Carrot and Top Hat to bring Jack Frost to life
Based on the body parts used, Jack Frost will have different levels of difficulty
The higher the difficulty, the bigger the chance of dropping Oryxmas weapons and better tokens
Jack Frost Token Drops
Oryxmas Weapons
New UT weapons that will also interact with the Oryxmas Miracle Set. If you are wearing the full set, your player sprite will be transformed into a 16×16 Beefcake Santa.
Santa Skin
Here how to unlock the badass Santa skin. Remember this time all the classes can have a crack at it.
Evergreen Dagger
Sleigh Bell Staff
Brass Chamberstick
Cheerful Chipper
Candy Katana
Garland Bow
Dungeon Events
We're kicking off Oryxmas with an early party in Ocean Trench and Abyss of Demons, where from release time on 12/16/20 until 12/21/20, 12:00 PM UTC, you will be rewarded with 1.5 times the usual XP and Loot!
Loot Tables
We're opening the seasonal Chest Events with one of our freshly redesigned dungeons: Toxic Sewers! The Toxic Sewers Chest will spawn after defeating Gulpord the Slime God from 12/18/20, 12:00 PM UTC until 12/22/20, 12:00 PM UTC. The drops will be as follows: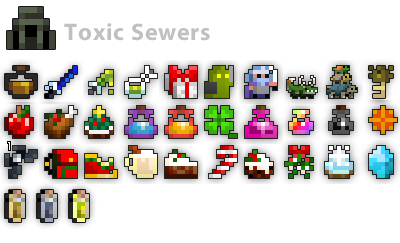 Basic Sulphur
Blue Ice Candy
Candy Cane
Christmas Tree Cupcake
Christmas Turkey Leg
Deerigator Pet Skin
Egg Nog
Figgy Pudding
Frost Cake
Fruitcake
Glazed Apple
Greater Sulphur
Large Mixed Lights Cloth
Large Snowy Night Cloth
Loot Drop Potion
Loot Tier Potion
Lucky Clover
Masked Samurai Skin
Mistletoe
Murky Toxin
Mystery Stat Pot
Oryxmas Mystery Pet Skin
Potion of Defense (SB)
Potion of Max Level
Santa's Bag
Santa's Sleigh
Shard of the Advisor x1
Slurp Knight Skin
Small Mixed Lights Cloth
Small Snowy Night Cloth
Superior Sulphur
Toxic Sewers Key
Toxin Tooth
Virulent Venom
Void Blade
Wine Cellar Incantation
World Turtles Pet Skin
Dungeons
On December 1st we gave you a sneak peek of the reworked Dungeons we are releasing today. And on the 7th, we showed you the Third Dimension, a brand new dungeon created by our UGC member Aurum.
The Crawling Depths
The new Crawling Depths takes an appropriately "epic" upgrade from the original, expanding on the Spider Den's dirt den and becoming a rough, unwelcoming den of stone.
You'll see some familiar mechanics return from the reworked Spider Den, such as webbed floors slowing you down and colored eggs capable of hatching different spider types. However, in addition to the existing enemies being reworked to be more engaging and unique, five brand new massive spiders have made their way onto the scene! Compared to the "glass cannon" style of the basic spiders, these brutes demand your respect and attention when spotted. Combined with the larger room sizes and sprawling webs, we feel this dungeon has become one of the most challenging and nerve-wracking to rush. Better think on your feet if you just want to dart to the boss.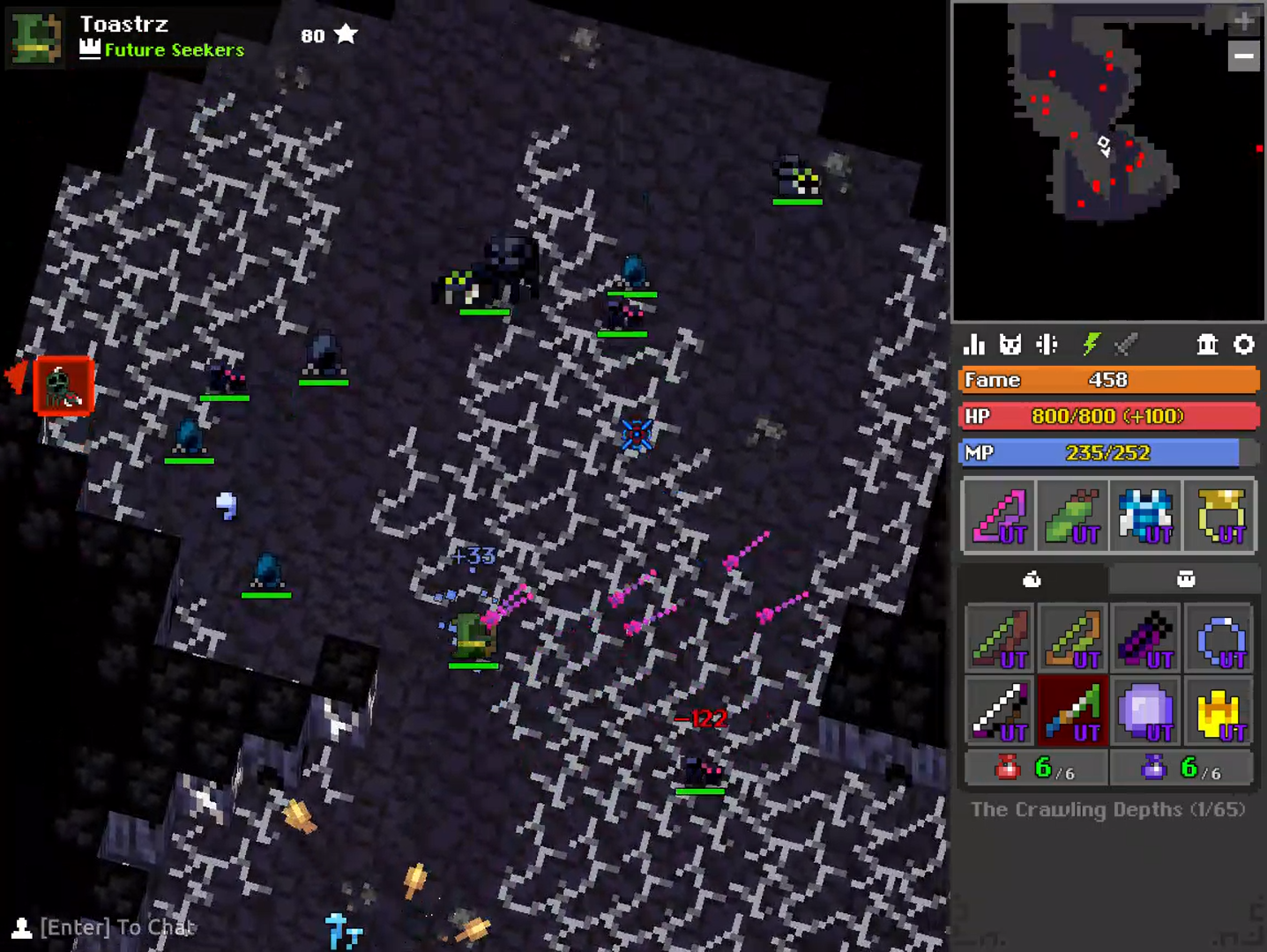 Toxic Sewers
The Toxic Sewers has always been among the tougher godlands dungeons, and the tight spaces could be very punishing to unmaxed characters looking for some defense. A big emphasis has been placed on giving you room to maneuver through this dungeon and avoid the sickening sludge more reliably. With most enemies becoming less instantly aggressive, unmaxed characters should have a much more approachable way to farm some defense potions so long as you play with caution.
You'll even see some uses of acceleration projectiles in this dungeon, continuing from what was introduced in High Tech Terror! Not just by dungeon monsters and the reworked Gulpord, but from the Master Rat! Trivia night was cancelled after poor attendance for four years straight, and now he's ready to test you in combat. Can you prove your mettle to the master?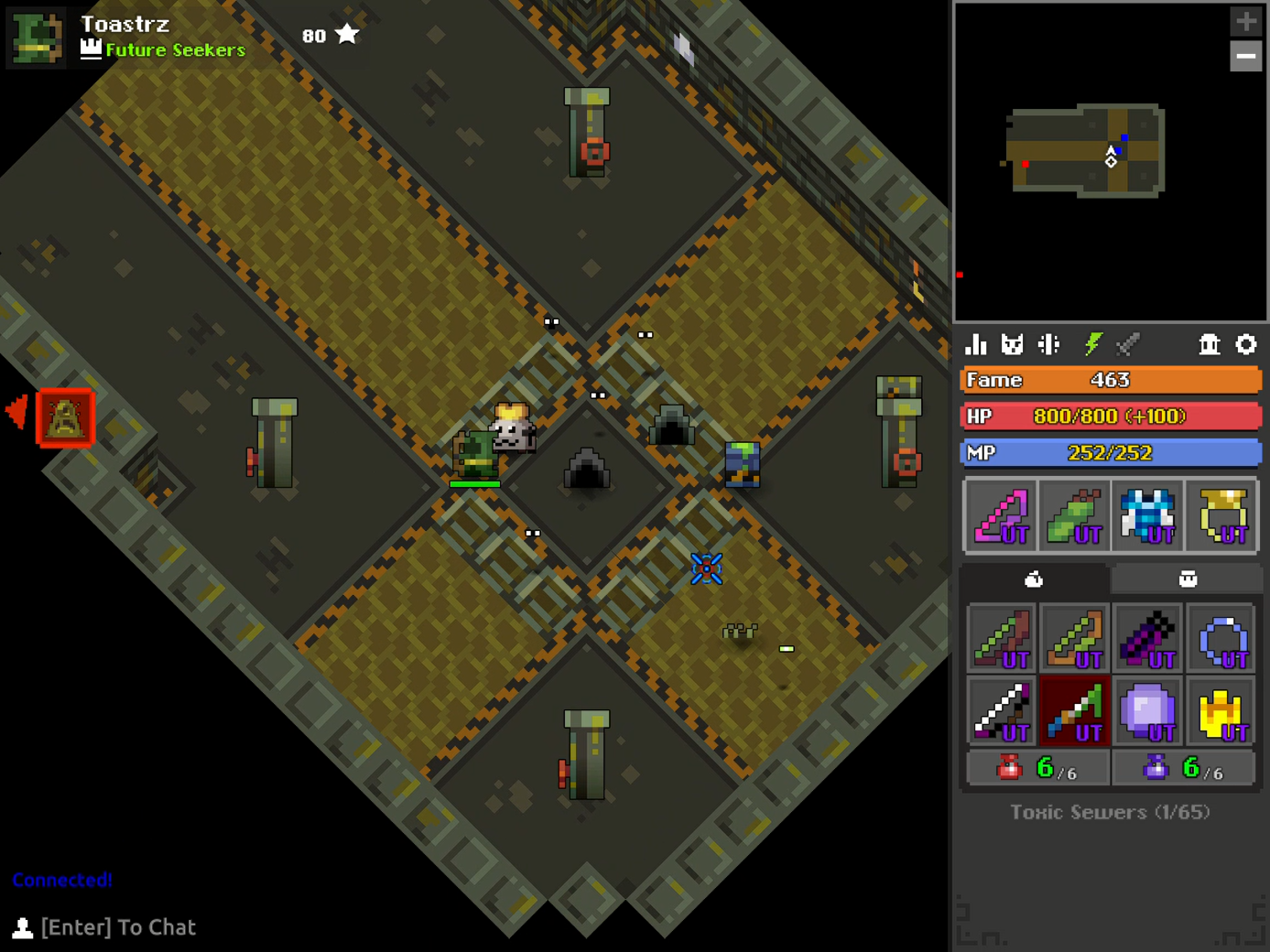 Woodland Labyrinth
The sights may be soothing, but the updated goblins and squirrels within would really rather you take a hike.
The infamous turrets have changed too, now having a growing wind-up to their attacks and using slower, varied patterns instead of nearly unavoidable zaps. They may be small now, but those saplings will grow up to sprout legs and terrorize the mountains someday!
The Woodland Labyrinth's three-part boss now has some behavior variety to back up its metamorphosis, too. Each of the three phases has two different modes it can shuffle between, as well as a special one-time attack per phase that you'll really want to watch out for. You'll also notice that minions are present throughout the fight as well, and will upgrade to the level of their master as the battle continues.
The Third Dimension
In the words of its creator: "The Third Dimension is a plane of existence inhabited by many angular foes, the greatest of all being the Tesseract Goddess herself. Many of the cubic inhabitants are concealing a hidden potential that you should watch out for."
"It's not too difficult, but it can become very dangerous if you're not careful. In terms of progression, its in a pretty odd spot. Its going to be pretty common as a drop from Cube God, but its on a level between Mountain Temple and LoD".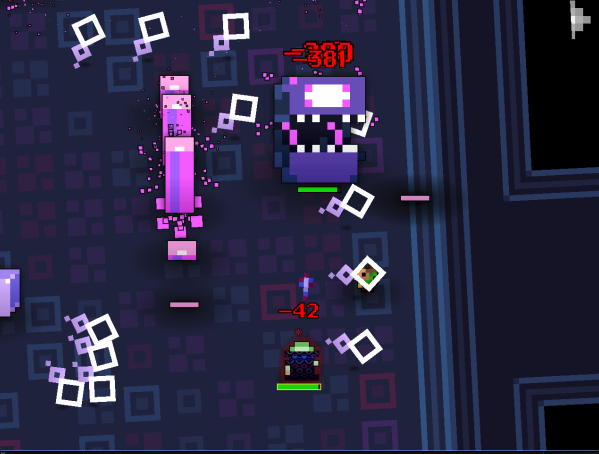 Misc
We realized there is an issue with runes on O3: if the three runes are not activated at the same time, the system that returns them to bags after a user tries to use them does not work. The runes the users tried to activate will disappear. We can assure you the team is working on a way to solve this ASAP.
Guild keys now contain the Shard of the Advisor (used to obtain the Agents of Oryx rings)
The Item Forge crafting values on the release can be found in this link
We are still working on the XP bug that sometimes makes players not receive XP if they are close to a monster which was defeated. We got more clues but we couldn't tackle it down for Oryxmas as we would have wanted to do.
Nexus is looking festive and Oryx's Castle is icy once again
Some encounters and enemies and even some friends have put on their festive clothes
Made old winter weapons (T12 Weapon reskins) drop in cyan bags instead of red bags
The Appetizer should now do a full circle in his circling attack and also has gotten small tweaks in his third phase. The turrets that he throws should now be properly indicated and the projectiles they shoot are slower.
Grinch now has more hit points but his escape will start way later so he should be easier to catch!
Reactivated Reindeer Eggs
Added Oryxmas Carol (T6 lute reskin) to Santa's Workshop
Added The Third Dimension Key to the Nexus Store at the price of 150 gold.
Added The Third Dimension Key to the Epic Mystery Key (we're aware that the tooltip currently does not show it – but be sure it drops!)