March 5, 2021
Hello curious Realmers,
We came here today to share a few new sprites with you, made by our talented UGC friends. I'm sure it'll be pretty easy to guess where are they going… but, can you guess their actual names? (There are a few hints in this post… but some things might have been put there to throw you off scent…).
We also wanted to share with you who are the winners of the Valentine contest, and, of course, let you choose the community winners.
by NblankFour
by NblankFour
by Coomi
by NblankFour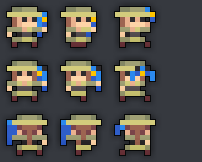 by Zquidx
We also want to share the status of the Valentine's contest with you. All members of our jury have voted and we found you some winners. Please follow the links to check their submissions.
The winners per category have been found and will get:
1st: 1000g + 1000g
2nd: 700g + 700g
3rd: 500g + 500g
1x Soulful Affection each
1x Chocolate Bar each
1x Serenading Bard Skin
For the category Love letter:
1st: Supercast
2nd: Pentaract
3rd: TeeHeeXP
For the category Short Story:
1st: Quickstah
2nd: Brandon
3rd: (winner asked his IGN not to be disclosed) AND Orixy
[Note: since we can't name the 3rd place winner, it's only fair to give the same award to the 4th]
For the category Rom-Com scene:
1st: DarylDaryn
2nd: faffi
3rd: ScrubSmshr
Congrats to you all! You'll be receiving your rewards during the next week.
P.s. – For the community winners, stay tuned for the poll on Reddit!