January 22, 2021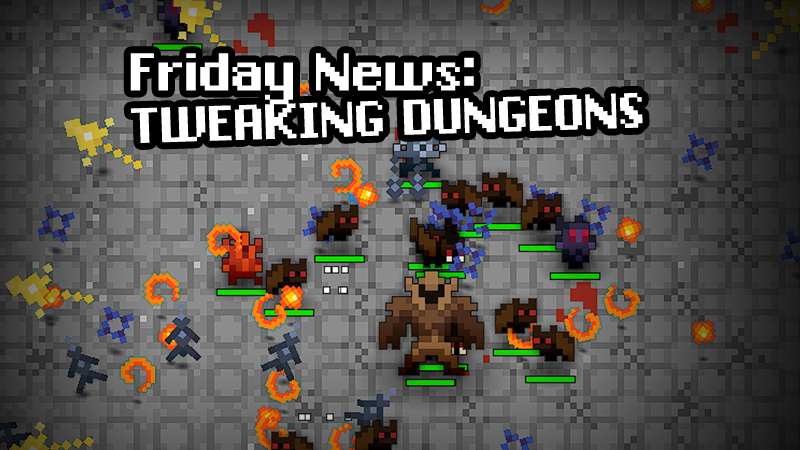 Hey curious Realmers,
You liked spoilers, we like spoilers… seems like a good match! Today we want to tell you about the changes we are making to some of your favorite dungeons.
We are introducing a variety of polish, balance and quality of life changes, focused mainly on endgame dungeons.
Lost Halls
Agonized Titan will spawn 3 Evil Spirits at a time and at a much lower rate.
Agonized Titan will require 3 Evil Spirits out of 5 to have been found to activate.
Adjusting dungeon generation: Loops will no longer appear on the side paths. Side paths will have a lower max length.
Crusaders and Spectral Sentry will no longer appear in the first 2 rooms beyond spawn rather than 1 room beyond spawn.
Champion of Oryx will only spawn minions initially, once the minions are defeated he'll follow the player with a 3 shot attack.
Marble Colossus's final stand Void Attacks will have effect duration and damage revised down.

Void Ring: 1 -> 0.6 sec Petrify
Void Spear: 250 -> 200 damage
Void Blast: 185 -> 150 damage and 1 -> 0.6 secs Paralyze
Cultist Hideout
"The Cult" quest marker will disappears when players approach the boss room to avoid clutter
"Malus 2" will be a quest once again
The Void
"All now ends" will lead directly into middle attack with Greater Void Shades, skipping the build up entirely, the phase will only last half as long as before.
Fungal Cavern
Crystal Worm Mother will have a small grace period when going back to the arena after Father/Child has been defeated where she will not shoot.
Crystal Worm Mother shall have a small grace period when the tail has been destroyed to avoid stacking shotguns.
Crystal Cavern
Will be adding a delay and telegraph to Crystal Bats explosion on death
Crystal Bats will circle players at a slower speed
Adding a delay to Crystallized Scorpion's first shotgun
As a bonus we'll also rework how Constructs in the mountains work: rather than heal each other in a circle they will only heal the construct stronger than them. This means that any characters will be able to defeat them as long as you take care of them in the right order (Wood > Rock > Steel). Their overall behavior and shot patterns will also be adjusted. Also, they will all share the same drop table meaning all will give Potion of Attack, the same XP and The Machine dungeon.
So, what do you think about the changes?
Do you want us to keep on spoiling on fridays?