February 5, 2021
Hello curious Realmers,
Can you say the title 3 times without saying it wrong? What about adding "Sprinkling" (just because!) before. Ah, the fun…We are still on our spoiling spree and we want to show some sprites we have been working on.
We would also like to emphasize that we are currently and actively working on countering spamming and cheating. Unfortunately we cannot reveal the full extent of what we are doing, for it would render our efforts useless. Still, you can expect some changes coming the Realm way in the next months that will try to minimize these occurrences.
Now, for the fun part: Can you guess where these will go to / are coming from? They are almost ready and will, very soon, be available in game.







Year of the Ox
The Lunar New Year festivities will take place a bit early in the very festive month of February! This weekend you will be able to take part in a small event to commemorate the end of the Year of the Rat and the beginning of the Year of the Ox. From today, 02/05/21, 13:00 PM UTC until 02/08/21, 12:00 PM UTC the following will take place:
Rock Dragon Extra Drops
The Rock Dragon will have the following added to its loot table:
Amulet of Drakefyre
Helm of Draconic Dominance
Indomptable
Mini Chinese Dragon Pet Skin
Mini Paper Lantern Pet Skin
Zaarvox's Heart
Zodiac Rat Pet Skin
And after you have slain it, you will be able to destroy a Chest after killing Ivory Wyvern in the Lair of Draconis with the following drops: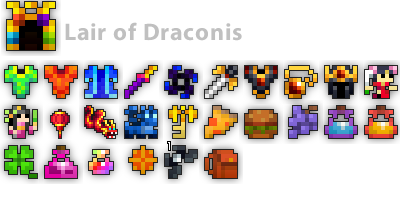 Lair of Draconis Drops:
Amulet of Drakefyre
Backpack
Celestial Blade
Chinese Dragon Pet Skin
Chinese Dress Trickster Skin
Chinese Princess Warrior Skin
Draconis Key
Fire Dragon Battle Armor
Grapes of Wrath
Helm of Draconic Dominance
Indomptable
Large Ivory Dragon Scale Cloth
Large Red Dragon Scale Cloth
Leaf Dragon Hide Armor
Loot Drop Potion
Loot Tier Potion
Lucky Clover
Midnight Star
Mini Nikao Pet Skin
Mystery Stat Pot
Paper Lantern Pet Skin
Potion of Max Level
Power Pizza
Shard of the Advisor x1
Small Ivory Dragon Scale Cloth
Small Red Dragon Scale Cloth
Superburger
Water Dragon Silk Robe
Wine Cellar Incantation
Zaarvox's Heart
Soon after that, Valentine's Day festivities will begin, so stay tuned!
P.S. – Some Admins may hang around the realm opening some Lairs. Say Hello!