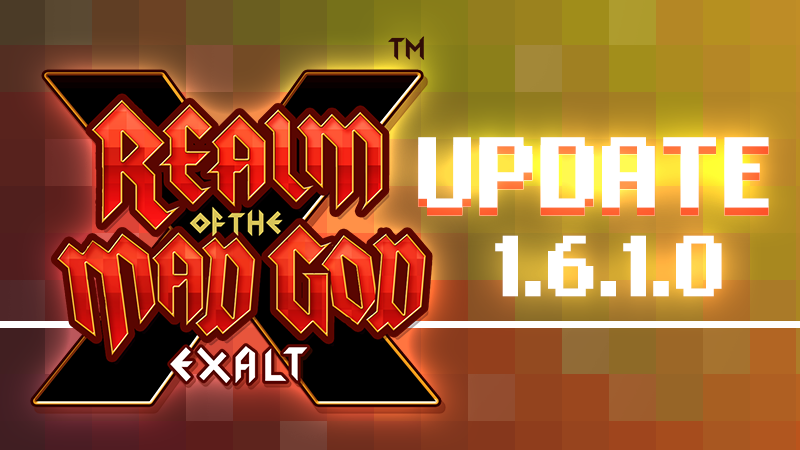 Hello Realmers,
This is a minor update, but don't be fooled by the name. It brings important changes that will affect the way you play and enjoy RotMG. Well, at least for those of you who are really interested in the lore and overall narrative of the game. Some things will start to make more sense now, as a new chapter unfolds in the Mad God's story.
This is what we are changing:
Unstable Status Effect
Instead of 360º, now the Unstable Status Effect will restrict the angle that a shot from your weapon can deviate up to a certain limit. So it will mess up with your aim (more noticeable at longer distances) but won't completely nullify your attacks. This is to make the effect more distinct and less frustrating, so it isn't redundant alongside effects like Weak, Stunned, or Dazed. Instead of effectively just stopping all damage, it now nudges you toward getting more dangerously close to an enemy to improve your chances of hitting. Note that abilities are still aimed in a 360º angle and will miss more frequently.
Janus the Doorwarden
Fixed a problem where Janus started with some HP but then didn't rescale to the correct amount of players.
ST Drops
Scientific Summoner Set
Item
Enemy
Location

C.L.A.W.

F.E.R.A.L.

High Tech Terror

B.O.O.M.

F.E.R.A.L.

High Tech Terror

A.R.M.O.R.

A.E.G.I.S.

High Tech Terror

C.O.N.T.R.O.L.L.E.R.

Dr. Terrible

Mad Lab
Quest Chest Drops
Standard Quest Chest
| | |
| --- | --- |
| Scientific Summoner Set | C.O.N.T.R.O.L.L.E.R. |
Vampire Rogue Set

Soulcursed Scythe

Vampiric Cape

Hallowed Hide

Ruthven's Rosary
Treasure Hunter Archer Set

Resplendent Bow

Embellished Quiver

Ornate Armor

Aquamarine Amulet
Mighty Quest Chest
Scientific Summoner Set

C.L.A.W.

A.R.M.O.R.

B.O.O.M.
Bug Fixes
Fixed a bug that caused the Necromancer ability skull does not to correctly calculate damage as per tooltip description.
Fixed an issue that made the tooltip description of the items not to appear when the players placed the cursor over the items.
Fixed issue that caused disconnections when a user moved out of the boundaries in the space stage, after defeating O3.
Fixed an issue that caused the current server not appearing highlighted in the server list.
Fixed the Lock / Ignore functions. Keep in mind that the lists of ignores and locks have been reset.
Other changes
Added attack frame to Oryx the Exalted God pet skin.
Treasure Hunter Archer Set.
Fixed a problem with the conditions for which these items can drop.
Item Visual Improvements.
Certain items have been realigned to be correctly centered on their inventory slot.
Added Mechanical Mace to the pool of Shard of the Intern x15.
Added Mechanical Mace to the Oryx Abilities quests, which are now three.
Added the Scientific Summoner ST set to the Mystery ST Chest.