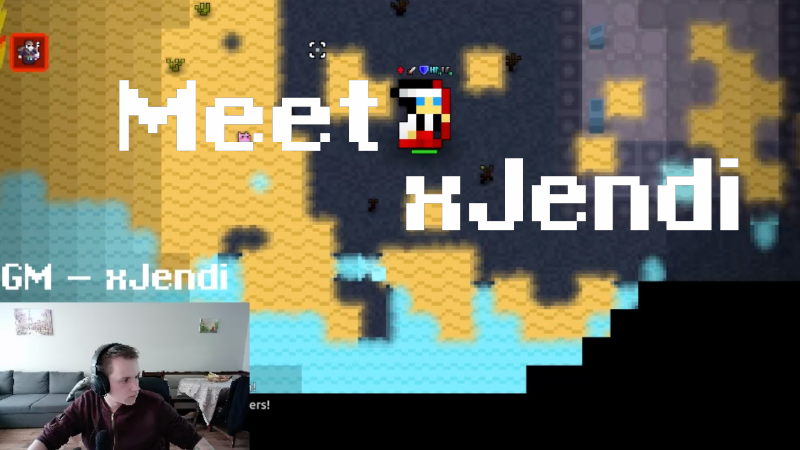 Hello Realmers,
You've probably seen him on one of our live streams and already know he's a Game Master and is really passionate about the game. And he's also been very eager to see this interview published, so much that if go back to our first stream, you'll see him teasing it. Meet xJendi.
IGN, Nationality and Age?
I'm xJendi, from Bulgaria and I'm 22 years old.
What is your job? Tell us about it.
My personal job as a game master is to help schedule and create events. Create art for news, events, interviews, store package, etc. And most importantly, I help to make sure you guys have fun and enjoy the game with in-game admin events and stuff like that!
Any hidden talents or hobbies?
A not so hidden talent is that I amateurly play electric guitar. Music has been a huge part of my life and I listen to music almost 24/7.
It helps me concentrate when I need to and helps me relieve stress. For those of you wondering I am indeed a metalhead but I do enjoy a lot of genres outside of metal i.e. techno, rap and hip-hop (mostly old-school stuff) and lo-fi beats. Also, my top 3 bands in no particular order: TOOL, Lamb of God and Behemoth.
Other hobbies are of course playing different video games, watching anime and classic movies. I do also enjoy streaming outside of work in my somewhat free time.
I don't know if this is considered a hobby but I absolutely love tattoos. I have a lot of ink and I want a couple more tattoos.
How did you end-up on DECA?
It is kind of an interesting story I guess. I have wanted to work in the gaming industry for a long time (since I was 13 actually) and I saw that they are looking for more staff.
I had just quit my last job and moved out into another city to live on my own close to my partner and University. I was jobless for around a month and got close to losing my savings after my move. Funnily enough, I got called for 3 job interviews in the span of 4 days. One of them was, of course, DECA. After I got the call from DECA I canceled my other 2 job applications and did a little bit of a life gamble because I wasn't sure if I would land my dream job or have to search for something that would just get me by. After a few days I got the news and surprise surprise, I got accepted! Over half a year later I'm still here and I am genuinely happy with my job.
Did you play RotMG before?
Unfortunately no, but I did know it since years back. I have seen a couple gameplay videos and thought it looked very interesting, but back then I was into other types of genres of games.
Favorite Class, Dungeon and Item?
Most of you can already tell but: Huntress, Beach Zone, Admin Bow.
What other games do you play?
Right now outside of RotMG for online games I play a lot of World of Warcraft. I do play some Hearthstone as well (I got to legend rank last April!). I also like playing League of Legends, but only with friends. For single player games, my all-time favorite one is Dark Souls 1. I have hundreds of hours of playtime on it and I love Dark Souls 3 as well. I really enjoy indie games too. Like Hollow Knight, Binding of Isaac and others. I am also a console fan, I love Bloodborne on my PS4 and some other titles
like my childhood games Patapon 1 and 2, as well as Loco Roco (if you know these games, you're a real one). I am also an above average Tetris player since I got addicted to Tetris99 on Nintendo Switch and I made like 100+ hours in the span of a month. There are many more…
What makes RotMG unique?
There aren't many other online games with pixel graphics + bullet hell + cool loot and bosses + over 60 players co-op + permadeath. It's a damn good combination in my opinion.
What are the things you love the most in the game?
I don't care if it sounds cliche so I'll just say it. I'm really surprised with the warm community. Of course there are bad apples but those are everywhere. A lot of players helped me out
and gave me advice about the game and I am grafetul for that! My favorite time is the Beach Zone after party where we just chat about anything really. It's cool, so thanks guys!
What would you change?
I wouldn't change anything but would like to add more stuff and add even more depth into the game. It has a lot of potential hence why it has been alive for so many years!
A good idea might be an in-game sort of "pedia" where there is a lot of information about anything a player is interested in instead of looking up 3rd party websites and etc.
How do you see the game in 10 years?
One can never tell for sure, but trust me, the future is bright for Realm.