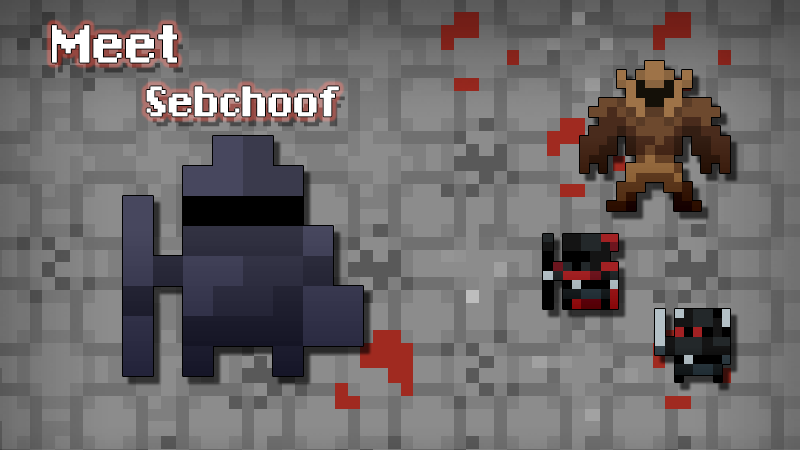 Hello Realmers,
Sebchoof, or Seb, like we call him, is one of our partnered content creators. Probably one of the most controversial ones. If we had to choose a class for him, he would be the Trickster… and guess what.. That's exactly his favorite one. Here's the interview:
Name, Nationality and Age?
Hi everyone! My name is Sebastian, I'm 25 and from Sydney, Australia.
Is making content your main activity? If not, what is your day job? Tell us about it.
I used to sell insurance but i got really sick of that and decided to try giving full time streaming a go! Although i'm not uploading and streaming as much as i'd like so i need to stop being a lazy chimp
Any hidden talents or hobbies?
I self taught myself to play piano. Also I love hiking and walking. Other than that i'm pretty useless
When did you start playing RotMG?
I started grinding my life away in rotmg almost 8 years ago
Favorite Class, Dungeon and Item?
My favourite class is easily trickster. With enough skill nexusing is never required because the ability allows for you to move almost anywhere instantly. This also means that its the fastest class in the game so you can be a chicken or hipster like henez. Also it arguably has the best ability in the game because it can be a 10 lasting effect that is better than a stun. And just by creating a trickster the game rewards you by giving you the best item in the game, the t0 prism. NERF NERF
My favorite dungeon just ahead of oryx sanctuary is the lost halls. I have spent hundreds of hours here, maybe breadcrumbing alone, and I'm sure i'll spend many hundred hours more there getting insta popped by angry boys. There are too many reasons why it's my favorite dungeon. Firstly, it has my favorite boss fight which is the Marble Colossus. This fight is really varied and has about 16 phases if I remember counting correctly. It's also one of the few challenging boss fights in the game for most players. Doing both the clearing and bosses is always fun in a group (as long as it's under 40 because HP scaling right now is interesting) because the majority of enemies have more than one phase so there's a multitude of ways you can get insta popped! And learning to rush this dungeon is not only extremely fun and satisfying but also rewarding because you can skip the time spent clearing the minions and have people bully you for playing the game too much. On top of all this the map generation is extremely unique and fun. Before loops on splits were removed the dungeon looked like a Binding of Isaac or Enter the Gungeon map layout. Now it's harder to get lost in the halls of the Lost Halls but its still cool. OK OK let me give one more reason. Another thing is this is the only dungeon with alternate paths which give me more reason on why i love Lost Halls. This is the only dungeon in the game that allows for multiple paths whether you choose to fight Marble Defender, then Marble Colossus and then using a unique key to fight the Void, or you can clear the pot rooms and then go into the Cultist Hideout where you can fight Malus and more insta popping enemies! The choice is yours!
It's hard to choose my favorite item because there's so many ones I love that come to mind! It used to be void blade but…. now id have to say its planewalker because it allows another class to be as hipster as the trickster! Not only do you get a bit of the great maneuverability that trickster has but you get an added few seconds of invisibility afterwards which allows you to make some cool plays
What other games do you play?
I love RotMG and games that are similar. My friend got me into streaming the Binding of Isaac and I'm so so so hooked. I need the contact number for the Binding of Isaac rehab clinic. I also love Enter the Gungeon.
What makes RotMG unique?
RotMG is the only game that has achieved to be a fusion of my favorite genres: MMO, RPG, Roguelike, Bullet Hell and Permadeath.
What are the things you love the most in the game?
My favorite thing about Realm of the Mad God is probably the masochistic difficulty. As long as you're not one of the pansies using third party software I can't think of a game that's more difficult and punishing. Dark Souls is a baby game compared to RotMG. Think about it. If you die in Dark Souls at the very most you lose 5 minutes of progress. There's deaths I've had where I've lost hundreds of hours of progress. And i love extremely difficult games because on average you have to play it more to overcome its obstacles. So i really hope that Deca creates more difficult endgame content and makes sure that end game dungeons are meant to be the end of the game and not easily complete-able by beginners
What would you change?
Currently the HP scaling system is really flawed. I'm going to make a video about it because its quite difficult to explain over text but if you were to draw a line of how a groups power changes as the amount of players increase against the HP scaling equation you would see that the group player power quickly rises initially as it gains unique buffs and tools and then slows down because only damage can be added. But the current HP scaling system is very lenient on small player numbers but then rises drastically exponentially. This is opposite of how it should be and is really easy to abuse. The HP scaling should rise quickly like average group player power, then slow down after the 20 player mark. The current HP scaling system is very streamer unfriendly as I'm heavily incentivated to play with small groups of around 20 people and makes events like the O3 event painfully unsatisfying in my opinion because fights are tedious and I can't even see the damage that I'm dealing. It also makes playing with small groups unsatisfying funnily enough because as you can see through my content even the end game boss gets its health pool melted so fast that it keeps getting pushed to the next phase where it does an animation and doesn't shoot. A logarithmic HP-scaling system would be optimal for RotMG
One thing that has been ignored but has massive potential in making RotMG a consistent part of peoples like is additions to the guild system. This is because I think we can all agree that playing RotMG with others is the funnest. Communities create a sense of belonging and that homey feeling that we love to return to. This is why guilds should finally receive some love. This can be done through many ways like for example being able to spend guild dead fame in a variety of ways, more interesting guild hall upgrades, and bonuses or challenges when popping dungeons inside the guild hall
What made you want to partner with DECA for creating content?
I wanted to partner with Deca because I believe they have and will make amazing changes to RotMG. They also make it more rewarding and satisfying to create content through my livestream on Twitch or my videos on youtube because of their support. Much love :heart:
How do you see the game in 10 years?
If Realm of the Mad God made it through the dark stages of late-stage Kabam with rampant multiboxers and long existing bugs that deleted your characters when you entered your pet yard I think RotMG will easily make it to 10 years if not 100! RotMG is an extremely niche game and I'm hoping in 10 years that all of its systems are vastly expanded (like guilds). I know one of the reasons RotMG is niche is because of the difficulty but I think it can be mainstream with changes such as adding more permanent upgrades to that character (e.g. pets, vaults, character slots) rather than on characters since they are temporary and painful to lose.
Don't forget to check out his channel: https://www.twitch.tv/sebchoof_rotmg